BBM 301 - Programming Languages (Fall 2019)
Lectures: Tuesdays 13:00-15:45 @D8 (Section 1), @D9 (Section 2)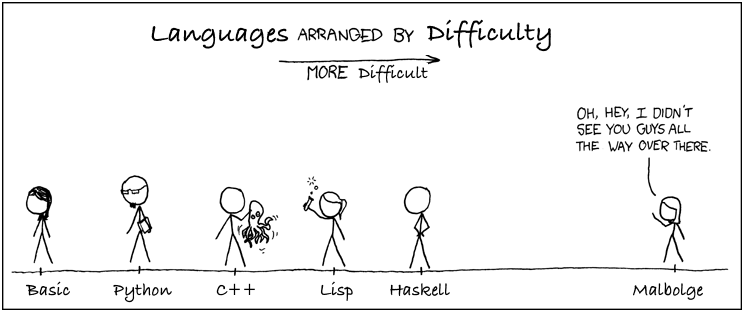 Languages Arranged by Difficulty © xkcd




| | | |
| --- | --- | --- |
| Instructor: | Assoc. Prof. Nazli Ikizler-Cinbis (Sec.1) | Prof. Pinar Duygulu Sahin (Sec. 2) |
| | nazli-at-cs.hacettepe.edu.tr | pinar-at-cs.hacettepe.edu.tr |
| | Office: 106, Tel: 297 7500 / 139 | Office: 104, Tel: 297 7500 / 141 |
| | Office Hours: By appointment | Office Hours: By appointment |
| | | |
Course Description:
The subject matter of this third-year undergraduate course is the programming language pragmatics. The course is structured around basic concepts in design and implementation of programming languages, including syntax, semantics, names, bindings, type checking, subprograms, etc. The students will also be introduced to the tools for designing lexical and syntactical analyzers, in particular lex and yacc.

The main aim of the course is to help students to gain an analytical and comparative look at programming languages and their implementations. The students are also expected to complete a semester-long programming project on implementing a programming language of their own design.
Textbook:
Concepts of Programming Languages, Robert W. Sebesta, Pearson, Eleventh Edition.
Grading Policy:
| | |
| --- | --- |
| Quizzes | 10% |
| Project - Two parts | 20% |
| Midterm Exam | 30% |
| Final Exam | 40% |
Important Dates:
| | |
| --- | --- |
| Midterm exam | November 26th 2019 |
| Final | To be announced later. |
Detailed Schedule:
---

Week

Date

Topic

Additional Readings

---

1

08/10

Introduction to programming languages

2

15/10

Name, Bindings and scopes

3

22/10

Describing syntax and semantics

4

29/10

National Holiday - No Class

5

05/11

Lex

6

12/11

Yacc

7

19/11

Functional Languages

8

26/11

Midterm Exam

9

03/12

Functional Languages(Cont'd)

10

10/12

Datatypes, Expressions

11

17/12

Subprograms

12

24/12

Implementing Subprograms

13

31/12

Logic Languages

14

07/01

Logic Languages and Wrap-up

---
Resources
Communication:
The course webpage will be updated regularly throughout the semester with lecture notes, programming and reading assignments and important deadlines. All other communications will be carried out through Piazza. Please enroll it by following the link https://piazza.com/hacettepe.edu.tr/fall2018/bbm301
Policies:
Attendance is mandatory. All work on assignments must be done individually unless stated otherwise. You are encouraged to discuss with your classmates about the given assignments, but these discussions should be carried out in an abstract way. That is, discussions related to a particular solution to a specific problem (either in actual code or in the pseudocode) will not be tolerated. In short, turning in someone else's work, in whole or in part, as your own will be considered as a violation of academic integrity. Please note that the former condition also holds for the material found on the web as everything on the web has been written by someone else.